WELCOME TO H3LLO DJ SCHOOL
       Bali, nicknamed the Island of the Gods, is one of the largest tourism destinations in Indonesia. The tourism industry is the biggest job provider in Bali, and particularly the entertainment sector. The Bali Province Tourism Office reported as many as 6,275,210 arrivals in 2019 from foreign countries, which was an increase of 3.37% compared to 2018. The tourism industry in terms of employment greatly contributes to Bali's foreign exchange. A strong emphasis is put on Human Resources to fill the need for experienced, trained and professionals in carrying out their duties properly.
       Nightlife, live music and performances are key components in this series of important attractions that must be offered to tourists. The last decade has seen an explosion in demand for quality Disc Jockeys from more than 200 venues including Discos, Cafés, Bars, Lounges, Restaurants and Beach Clubs in Bali.
       Seeing this great potential on the island of Bali, H3LLO DJ SCHOOL (HDJ) opens its doors to welcome curious people and become a part of Disc Jockey (DJ) by offering lessons and hands-on experiences through courses intended for students, university students and the public. 
       H3LLO DJ SCHOOL can now provide you with the best DJ courses. Granted a C accreditation by the Bali Provincial Education Sports Office and in the process of qualifying for level B accreditation, our company offers one of the best curriculum in town, international standard equipment, teaching systems, experienced instructors who will provide you with extensive information about DJ world. We also of course provide a full range of DJ equipment filling all your needs. To sum it up. H3LLO DJ SCHOOL is truly making difference by pioneering stunning new developments in the Bali DJ scene.
JOIN US NOW, AND BECOME A PROFESSIONAL DISC JOCKEY.

– To become a professional, idependent, and responsible Disc Jockey association, able to guide junior DJ candidates in a positive and productive direction.
– To master the full range of DJ equipments and keep up with the latest technological developments, thus being able to foster high quality and reliable DJ artist.
– To become a Disc Jockey gathering and training center to further develop interest, knowledge, and potential of new generation Disc Jockey candidates about music and DJ equipments, in order to perform in any venue or stage.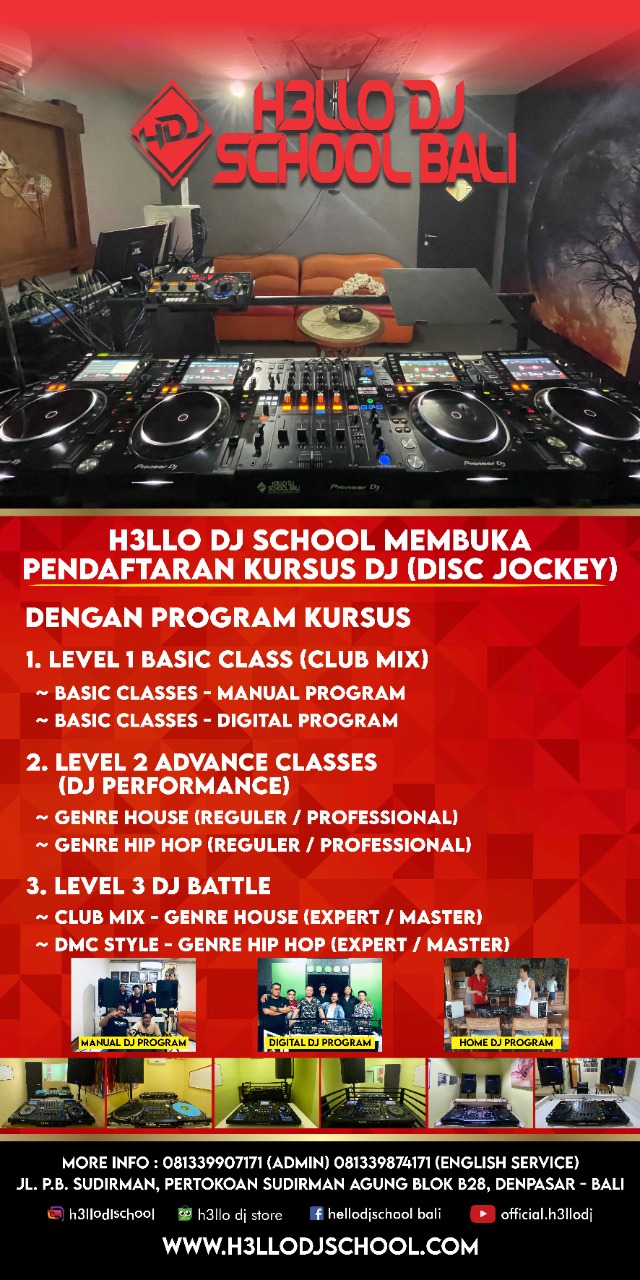 IT DOESN'T HAVE TO BE EXPENSIVE TO LEARN AND TO BECOME DISC JOCKEY
H3LLO DJ SCHOOL has an affordable course package for every grade, other than that it offers a 2X step payment method.

PROVIDING THE MOST COMPLETE FACILITY AND NEWEST DJ EQUIPMENTS
H3LLO DJ SCHOOL is commited to offer the best service for you, providing a comfortable and complete facility up to the latest DJ equipments.


YOU CAN LEARN ANY MUSIC GENRE YOU DESIRE
H3LLO DJ SCHOOL prioritize the creation of reliable, professional, and responsible Disc Jockeys. This is obvious in the way H3LLO DJ SCHOOL guides graduate students who fit perfectly into the H3LLO DJ TEAM, so that they are soon able to shine at any event featuring any type of music.
Get the latest news and information about H3LLO DJ SCHOOL
last update April 21, 2021. by admin #1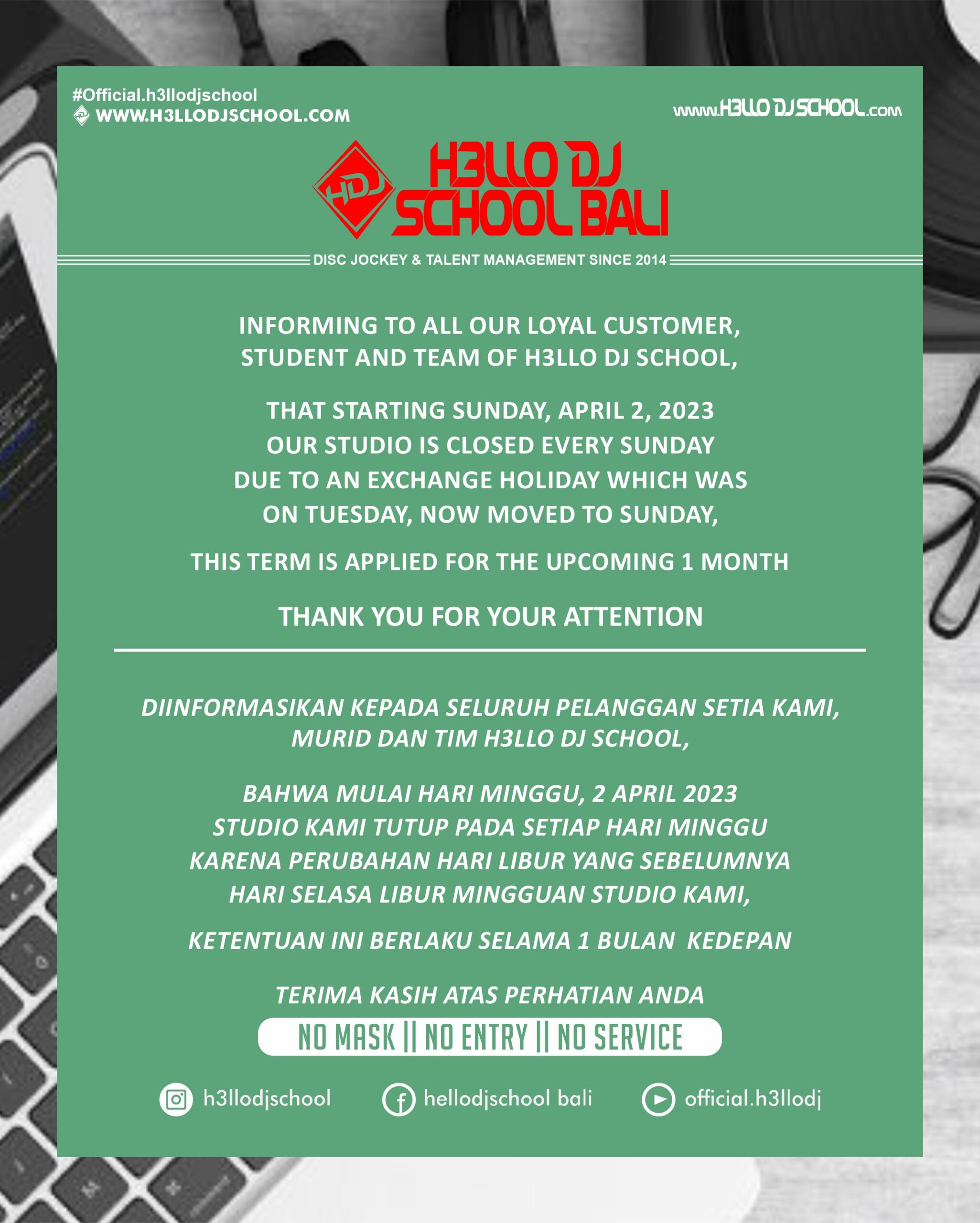 H3LLO DJ SCHOOL
Open From Monday – Saturday, Door Open 12:00 till 21:00
(Close Every Sunday)
Need Priority ?
Information and event schedules of H3LLO DJ SCHOOL
last update April 13, 2021. by admin #1
Come join and party with us!
Our DJ's will be at several events creating an unforgettable experience for everyone.
 Looking for an invitation of free entry ?
SEVEN7OURNEY – 7th Anniversary H3LLO DJ SCHOOL

First Roadshow 12/12/2020
H3LLO DJ SCHOOL 7th Anniversary, where H3LLO DJ SCHOOL was formed in 25th December 2013, initiating the first step of being a DJ community.

Third Roadshow 24/12/2020

H3LLO DJ SCHOOL 7th Anniversary, thank you to all of the venues for supporting us.
To watch more videos and live streams
Click the link bellow :