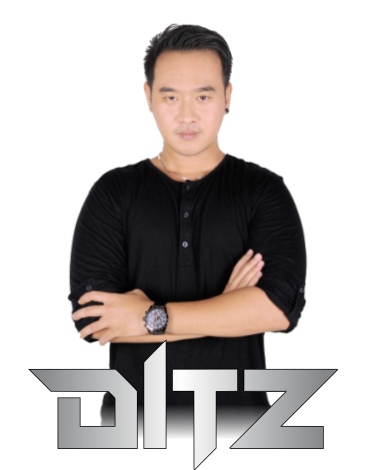 DJ Ditz started his exceptional DJ career all the way back in 2012. Before he began DJing, Ditz was a drummer in a band based in Bali. He began to take a liking to the DJ world when he began clubbing with his friends, after a while his liking to DJing grew even further until he finally decides to teach himself to DJ.
He started off learning by focusing on EDM as his main genre. As time goes on his passion grew even further as well as his skill and knowledge. Ditz started to go outside of his comfort zone to learn about other genres when he got his first offer as a resident DJ at The Stones. Ditz had always focused more on being a resident DJ than a guest DJ as it can be proven by his past residency like The Stones, Delta Club, Blue Sapphire, and his last residency at Modus Bar.

In 2016 Ditz decided to join the HIN DJ competition and managed to won himself 3rd place. DJ Ditz now has mastered various other genres like Bigroom, Melbourne Bounce, Mash-Up, Pop Dance, Progressive, Trance, Psy Trance, Hardstyle, Techno, Melodic Techno, Tech House, Groove House, Funky House, Jacking House, Deep House, Tropical House, Future House, Bass House, Speed House, Electro House, Melodic House, Baile, Hip Hop, R&B, Moombahton, Reggaeton, Dancehall, Afrobeat, Slowjam, Top 40, Classic Disco, Nu Disco, Twerk and other more as well.
Residency Experience  Modus Bar, Blue Sapphire, Delta Club (2014-2015), The Stones (2013-2015)

Events Experince  HIN Dance and Music Fest 2016, Tabanan Auto Show 2016, Pool and Foam Party, Yamaha Auto Show 2017

Night Club DJ Experince   [ Bali ] Adora Soul, Destination Bali, Boshe VVIP Club, Pyramid, Blue Sapphire, Delta Club, Maestro, A-Club, Bounty Club, Velvet Club, Level One KTV, Engine Room, Poseidon Club, D'Place, Lunox, Soka, Afterhour, D'Tukad River Club, 9'Square Bali [ Banyuwangi ] Mascot Banyuwangi [ Jakarta ] Pondok Indah Jakarta

Bar, Lounge, Sunset & Hotel Experience  Delona, The Stones, Modus Bar, Station Bar, 8 Bar, Beer&Co Seminyak, Beer&Co Canggu, Hotel Ayana, Kuwarasan, QR Resto, Warung Pepe